Products :
Time Attendance and Access Control
Hand Punch ® 3000
(Biometric Time & Attendance Terminal)

Features
Smarter than card-based terminals :

There are no cards to create, administer, carry – or lose. The HandPunch® 3000 verifies employees' identities in less than one second, based on the unique size and shape of their hands

Versatile and programmable :

Beyond a simple time clock, the HandPunch 3000 provides definable data management keys that allow data collection when employees punch.

Hand Geometry Technology :

The HandPunch &ref; 3000 captures a three-dimensional image of the hand each time the employee punches. The hand's size and shape are used to verify their identity with unparalleled accuracy. No fingerprints or palm prints are utilized.

Programmable Data Management Keys :

The HandPunch 3000 has two user-definable data management keys that let you collect data as employees punch.

Communication Options :

Whether your application calls for one terminal or thousands, the HandPunch 3000 can meet the need.

Edit-at-the-Clock Functions :

The HandPunch 3000 allows supervisors to override user restrictions and to input such items as missed punches, planned vacations, and sick time at the terminal.

Bell Schedules :

The bell schedule lets you program the day, time and duration of a series of bells. The bells can be programmed to signal the beginning or end of a shift, lunch or break.

Door Control :

The HandPunch 3000 provides the capability to unlock and monitor a door.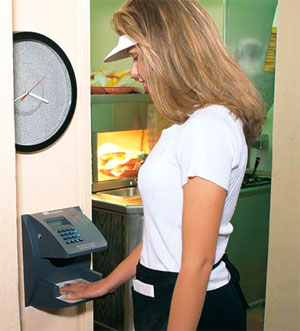 Benefits
Saves money over card-based systems
Eliminates Badges & Buddy Punching
Fast and easy to use
Provides the most accurate time and attendance solution available.
ACCU-TIME CYBER SERIES
The Accu-Time Cyber Series is ideal for workforce management applications such as employee time and attendance for payroll, access control, and job tracking. This cost-effective Cyberterminal is a programmable data collection device with features previously reserved for the most expensive platforms. The selectable serial or Ethernet (10/100BASE-T) communications and ATS's Universal Command Set programming interface offer countless configuration options that make the Cyber Series second to none.
Features
1 MB RAM option
512KB Flash option
Serial RS232 or RS485
10/100BASE-T Ethernet
Digital bar code wand port
33.6K baud modem option
802.11b wireless compatible
Expansion slot for support of plug-in options
DI/DO port for access control or bell ringing
Dual proximity readers